Tire sealing system–temporarily repairing a flat tire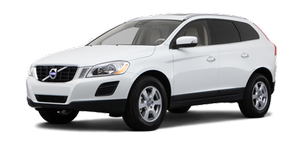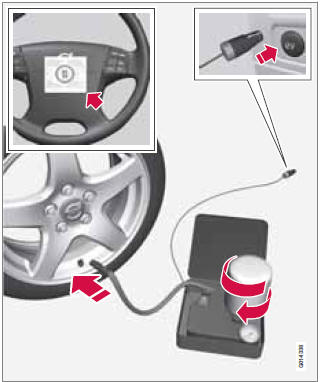 Tire sealing system–temporarily repairing a flat tire
Temporarily repairing a flat tire is done in two stages:
• Stage 1: The hole is sealed by pumping sealing compound into the tire. The car is then driven a short distance to distribute the sealing compound in the tire.
NOTE
Do not remove any foreign objects (nails, etc.) from the tire before using the sealing system.
• Stage 2: The tire's inflation pressure is checked and adjusted if necessary.
WARNING
• Never leave the tire sealing system unattended when it is operating.
• Keep the tire sealing system away from children.
• Be sure the vehicle is parked safely off the road and away from moving traffic.
• Apply the parking brake.
See also:
Quality and equipment
In line with Volvo's commitment to quality and the environment, all interior trim materials conform to the internationally recognised, ecological Oeko-Tex standard, and are emission-free to reduce ...
Manually opening the fuel filler door
If necessary, the fuel filler door can be opened manually: 1. Open the side hatch in the trunk (on the same side as the fuel filler door). 2. Grasp the green cord with a handle. 3. Gently pull th ...
Climate system maintenance
Special tools and equipment are required to maintain and carry out repairs on the climate system. Work of this type should only be done by a trained and qualified Volvo service technician. ...