Extra high beam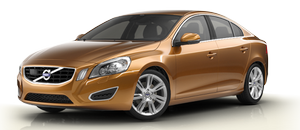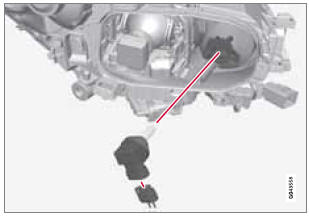 1. Remove the headlight housing from the vehicle (see page 306).
2. Remove the cover over the bulbs (see page 308).
3. Remove the bulb by turning it counterclockwise and pulling it straight out.
4. Remove the connector from the bulb.
5. Press the new bulb into the socket and turn it clockwise to put it in place. It can only be secured in one position.
6. Put the cover back into position and reinstall the headlight housing.
See also:
Loss of a remote key
If either of the remote keys is lost, the other should be taken with the car to a Volvo retailer. As an anti-theft measure, the code of the lost remote key must be erased from the system. NO ...
Unlocking/locking
Unlocking 1. Insert the remote key into the ignition slot as far as possible. 2. Press the START/STOP ENGINE button. > A sound will be audible when the lock releases. Vehicles with keyless driv ...
Booster cushions
Securing a booster cushion Position the child correctly on the booster cushion Booster cushions are recommended for children who have outgrown convertible seats. 1. Place the booster cushion i ...