From outside the vehicle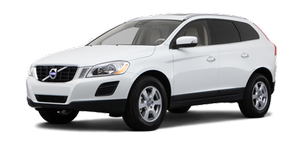 The remote key locks and unlocks all of the doors and the tailgate.
Before the vehicle can be locked from the outside with the remote key, the driver's door must be closed. Any other door/tailgate that is open will be locked and the alarm will be armed.
NOTE
Be sure the remote key is outside of the vehicle before the other doors/tailgate are closed to help avoid locking the remote inside the vehicle.
If the vehicle is equipped with the optional keyless drive system, all doors/tailgate must be closed before the vehicle can be locked.
The first press on the unlock button unlocks the driver's door and a second press unlocks the other doors and the tailgate (see also page 58). This setting can be changed in the menu system, see page 134.
If the locks repeatedly do not react when the unlock button is pressed, it may be necessary to replace the batteries in the remote, see page 58. In this case the vehicle can be unlocked with the detachable key blade. See page 61.
See also:
Radio text
This text provides information about the song that is currently playing. To turn this feature on or off, press OK/MENU and scroll to Show radio text and press OK/MENU to toggle between on or off. ...
Use of Additives
With the exception of gas line antifreeze during winter months, do not add solvents, thickeners, or other store-bought additives to your vehicle's fuel, cooling, or lubricating systems. Overus ...
Locking or unlocking the vehicle with the key blade
Keyless drive keyhole cover The driver's door on vehicles equipped with keyless drive can be locked or unlocked with the remote key's detachable key blade if necessary, see page 61 for inform ...