Ambient lighting conditions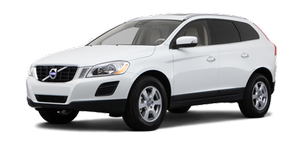 The camera automatically monitors the ambient lighting conditions behind the vehicle and constantly adjusts sensitivity to light. This may cause the brightness and quality of the image on the screen to vary slightly. Sensitivity to light is increased in dark conditions or in bad weather, which may affect image quality.
If the image on the screen seems too dark, brightness can be increased with the thumb wheel on the lighting panel.
NOTE
In order to function properly, the camera lens should always be kept clean. This is particularly important in bad weather. Keep the lens free of dirt, ice or snow.
See also:
Screen aspect ratio
Three screen aspect ratios can be set: Normal, Zoom 1 and Zoom 2. Normal: The image on the screen is presented at the normal aspect ratio (usually 4:3 or 16:9). Zoom 1: Full-screen image, but par ...
Introduction
The Dynamic Stability and Traction Control system (DSTC) consists of a number of functions designed help reduce wheel spin, counteract skidding, and to generally help improve directional stabi ...
Brake system
The brake system is a hydraulic system consisting of two separate brake circuits. If a problem should occur in one of these circuits, it is still possible to stop the vehicle with the other brake ...