Washing the car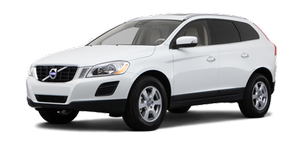 The following points should be kept in mind when washing and cleaning the car:
Х The car should be washed at regular intervals since dirt, dust, insects and tar spots adhere to the paint and may cause damage.
To help prevent corrosion, it is particularly important to wash the car frequently in the wintertime.
Х Avoid washing your car in direct sunlight.
Doing so may cause detergents and wax to dry out and become abrasive. To avoid scratching, use lukewarm water to soften the dirt before you wash with a soft sponge, and plenty of sudsy water.
Х Bird droppings: Remove from paintwork as soon as possible. Otherwise the finish may be permanently damaged.
Х A detergent can be used to facilitate the softening of dirt and oil.
Х Dry the car with a clean chamois and remember to clean the drain holes in the doors and rocker panels.
Х Tar spots can be removed with tar remover after the car has been washed.
Х A stiff-bristle brush and lukewarm soapy water can be used to clean the wiper blades. Frequent cleaning of the windshield and wiper blades improves visibility considerably and also helps prolong the service life of the wiper blades.
Х Wash off the dirt from the underside (wheel housings, fenders, etc).
Х In areas of high industrial fallout, more frequent washing is recommended.
NOTE
When washing the car, remember to remove dirt from the drain holes in the doors and sills.
CAUTION Х During high pressure washing, the spray mouthpiece must never be closer to the vehicle than 13" (30 cm). Do not spray into the locks.
Х Dirt, snow, etc., on the headlights can reduce lighting capacity considerably.
Clean the headlights regularly, for example when refueling.
Special laminated panoramic roof cautions:
Х Always close the laminated panoramic roof and sun shade before washing your vehicle.
Х Never use abrasive cleaning agents on the laminated panoramic roof.
Х Never use wax on the rubber seals around the laminated panoramic roof.
See also:
Speed-dependent steering force*
Steering force increases with the speed of the vehicle to give the driver enhanced sensitivity. At low speed the vehicle is easy to steer in order to facilitate parking, etc. Steering force can b ...
Blower function to reduce battery drain
The climate system's blower functions normally while the engine is running. However, when the engine is switched off (even if the ignition is switched to positions I or II), the blower control w ...
Contact shortcuts
A quick way of searching the phone book for contacts in normal view is to turn TUNE clockwise to access the phone book and then counter- clockwise to select a contact from the list. Press OK/MENU ...