Using voice commands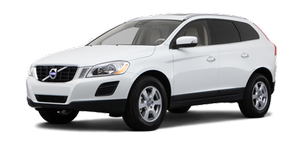 The driver initiates a voice command dialogue by pressing the voice control button (see the illustration on page 241).
When a dialogue has been initiated, commonly used commands will be shown in the display.
Grayed-out texts or texts in parentheses are not part of the spoken command.
Once you become familiar with the system, you can speed up the command dialogue by briefly pressing the voice control button to skip prompts from the system.
Commands can be given in several ways.
For example, the command "Phone call contact" can be spoken as:
• "Phone > Call contact"—say "Phone," wait for a system response, and then continue by saying "Call contact."
• "Phone call contact"—give the entire command at one time
The following is a list of features that can be voice-controlled with a Bluetooth®-connected cell phone.
See also:
Introduction
The menu system provides access to menus for operating many of the vehicle's functions, such as setting the clock, door mirrors, locks, etc. Navigating in the menus is done using the buttons ...
Use of Additives
With the exception of gas line antifreeze during winter months, do not add solvents, thickeners, or other store-bought additives to your vehicle's fuel, cooling, or lubricating systems. Overuse ...
Inflation pressure
Tire inflation pressure table The following tire pressures are recommended by Volvo for your vehicle. Refer to the tire inflation placard (see page 273 for its location) for information specific ...