Function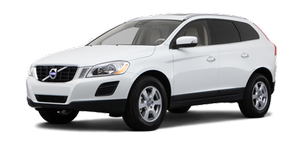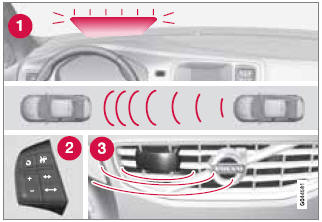 Function overview
1 Warning light, braking by driver required
2 Controls in steering wheel
3 Radar sensor in front grille
Adaptive Cruise Control consists of:
• A cruise control system to maintain a set speed
• A system to maintain a set distance to the vehicle ahead, which is expressed as a time interval. For example, you can choose to remain approximately 2 seconds behind the vehicle ahead. The actual distance required to maintain a 2-second interval will vary according the speed of the vehicles.
WARNING
• Adaptive Cruise Control is not a collision avoidance system. The driver is always responsible for applying the brakes if the system does not detect another vehicle.
• Adaptive Cruise Control does not react to people or animals, or small vehicles such as bicycles and motorcycles. It also does not react to slow moving, parked or approaching vehicles, or stationary objects.
• Do not use Adaptive Cruise Control in demanding driving conditions such as city driving or other heavy traffic situations, in slippery conditions, when there is a great deal of water or slush on the road, during heavy rain or snow, in poor visibility, on winding roads or on highway on- or off-ramps.
The distance to the vehicle ahead (in the same lane) is monitored by a radar sensor. Your vehicle's speed is regulated by accelerating and braking. The brakes may emit a sound when they are being modulated by the adaptive cruise control system. This is normal.
WARNING
The brake pedal moves when the adaptive cruise control system modulates the brakes. Do not rest your foot under the brake pedal.
The ACC system is designed to smoothly regulate speed. However, the driver must apply the brakes in situations that require immediate braking. This applies when there are great differences in speed between vehicles, or if the vehicle ahead brakes suddenly.
WARNING
Due to limitations in the radar sensor, braking may occur unexpectedly or not at all, see page 159.
Adaptive Cruise Control can be put in active mode at any permitted speed. However, if the vehicle's speed falls below 18 mph (30 km/h) or if engine speed (rpm) becomes too low, ACC disengages (goes into standby mode) and will no longer modulate the brakes2. The driver will then have to maintain a safe distance to the vehicle ahead.
WARNING
When Adaptive Cruise Control is in standby mode or is switched off completely, the brakes will not be modulated automatically.
The driver must assume full control over the vehicle.
See also:
Introduction
The infotainment system's voice control feature enables the driver to voice-activate certain functions in a Bluetooth®-connected cell phone or the navigation system. NOTE • The information in ...
Air vents in the dashboard
A - Open B - Closed C - Horizontal airflow D - Vertical airflow Direct the outer air vents toward the side windows to defrost. ...
Windshield wipers off
Move the lever to position 0 to switch off the windshield wipers. ...