Replacing the batteries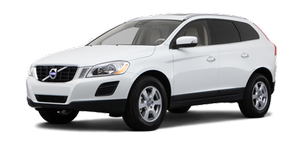 CAUTION When handling batteries, avoid touching their contact surfaces as this could result in poor battery function in the remote key.
3 Note the position of the battery's (+) or (–) sides.
Remote key (one battery)
1. Use a screwdriver to pry out the old battery.
2. Insert a new one with the (+) side downward.
PCC (two batteries)
1. Use a screwdriver to pry out the old batteries.
2. Insert the first new battery with the (+) side upward.
3. Insert the plastic spacer over the battery.
Insert the second new battery on top of the plastic spacer, with the + side downward.
See also:
Components in the SIPS airbag system
This SIPS airbag system consists of a gas generator, the side airbag modules built into the outboard sides of both front seat backrests, and electronic sensors/wiring. WARNING The SIPS air ...
Front airbags
Front airbags ...
SIRIUS ID
The SIRIUS ID (sometimes referred to as the Electronic Serial Number or ESN) is required when contacting the Sirius Call Center. It is used to activate your account and when making any account tra ...