Function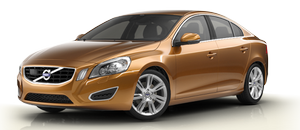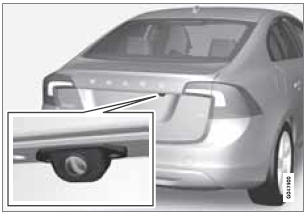 The driver sees what is behind the vehicle and if a person or animal should suddenly appear from the side.
PAC is mounted on the rear of the trunk lid, near the opening handle.
The camera has built-in electronics that help reduce the "fish-eye" effect so that the image shown on the screen is as natural as possible. This may cause some objects on the screen to "lean," which is normal.

WARNING
Objects seen on the screen may be closer than they appear to be.
Ambient lighting conditions
The camera automatically monitors the ambient lighting conditions behind the vehicle and constantly adjusts sensitivity to light. This may cause the brightness and quality of the image on the screen to vary slightly. Sensitivity to light is increased in dark conditions or in bad weather, which may affect image quality. If the image on the screen seems too dark, brightness can be increased with the thumb wheel on the lighting panel.

NOTE
In order to function properly, the camera lens should always be kept clean. This is particularly important in bad weather. Keep the lens free of dirt, ice or snow.
See also:
Autostart
This function makes it possible to start the vehicle without holding the key in the start position (position III) until the engine starts. Turn the key to position III and release it. The starte ...
Trailer Stability Assist (TSA)
Trailer Stability Assist is a system designed to help stabilize a vehicle that is towing a trailer when the vehicle and trailer have begun to sway and is part of the Dynamic Stability and Traction ...