Function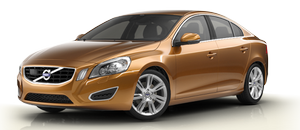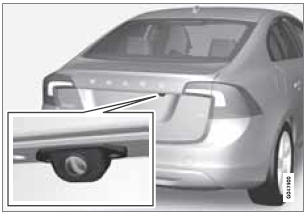 The driver sees what is behind the vehicle and if a person or animal should suddenly appear from the side.
PAC is mounted on the rear of the trunk lid, near the opening handle.
The camera has built-in electronics that help reduce the "fish-eye" effect so that the image shown on the screen is as natural as possible. This may cause some objects on the screen to "lean," which is normal.

WARNING
Objects seen on the screen may be closer than they appear to be.
Ambient lighting conditions
The camera automatically monitors the ambient lighting conditions behind the vehicle and constantly adjusts sensitivity to light. This may cause the brightness and quality of the image on the screen to vary slightly. Sensitivity to light is increased in dark conditions or in bad weather, which may affect image quality. If the image on the screen seems too dark, brightness can be increased with the thumb wheel on the lighting panel.

NOTE
In order to function properly, the camera lens should always be kept clean. This is particularly important in bad weather. Keep the lens free of dirt, ice or snow.
See also:
Cold weather precautions
If you wish to check your vehicle before the approach of cold weather, the following advice is worth noting: Make sure that the engine coolant contains 50 percent antifreeze. Any other mixtur ...
Volvo's concern for safety
Safety is Volvo's cornerstone. Our concern dates back to 1927 when the first Volvo rolled off the production line. Three-point seat belts (a Volvo invention), safety cages, and energyabsorbing ...
Accessory installation
• We strongly recommend that Volvo owners install only genuine, Volvo-approved accessories, and that accessory installations be performed only by a trained and qualified Volvo service technici ...