Design concept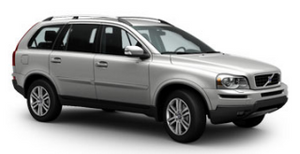 At the front, the traditional Volvo V-shaped bonnet incorporates a grille with a wide chrome surround and three-dimensional mesh inserts, plus a large Volvo 'iron mark' badge. The front bumper has a degree of colour-coding and an extended skidplate built into it. The Volvo XC90 is also distinguished by 18in alloy wheels (standard on SE and SE Lux) and colour-coded side mouldings, door handles and wheelarch mouldings with black stone protectors. In line with the rest of the Volvo range, the Volvo XC90 also features large, body-coloured door mirrors, which incorporate the side indicator lights.
The muscularity of the Volvo XC90 is matched by rounded corners front and rear, a gently sloping (split) tailgate and shorter roof section to promote a smoother, non-aggressive impression and help the vehicle to look more compact and desirable.
The Volvo XC90's 'cockpit forward design' enables the passenger compartment to be as far forward as possible with a more steeply raked windscreen than in most other SUVs. This has allowed Volvo to make a seven-seat SUV within modest overall body dimensions.
The Volvo XC90's tailgate is gently sloping rather than vertical to clearly state that this is not a regular Volvo estate car. The resulting shorter roofline also helps the vehicle appear smaller and gives it a sporty stance.
For added convenience, the tailgate is split so the lower section can be used as a seat or table; it is strong enough to be stood upon when loading items onto the roof, and the upper section is not too large, heavy or high when opened.
See also:
RSE pop-up menu
Press on the remote control while a video file is playing to display the pop-up menu. Use the scroll wheel and the buttons on the remote to make menu selections. See page 254 for detailed i ...
Electrical system
General information 12-volt system with voltage controlled generator. Single wire system in which the chassis and engine block are used as conductors, grounded on the chassis. Battery If you ...
Rear window and door mirror defrosters
Use the defroster to quickly remove fog and ice from the rear window and the door mirrors. Press the button once to start simultaneous rear window and door mirror defrosting. The light in the ...