Buttons on the remote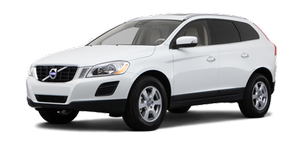 Lock Ц Press the Lock button on the remote once to lock all doors and the tailgate.
The turn signals will flash once to confirm locking.

Unlock Ц Press the Unlock button on the remote once to unlock the driver's door.
After a short pause, press the Unlock button a second time within 10 seconds to unlock the other doors and the tailgate.
This function can be changed so that all doors unlock at the same time by pressing My Car and going to Settings

Car settings

Lock settings

Change doors unlock setting. See page 133 for a description of the menu system.

Approach lighting Ц As you approach the vehicle, press the button on the remote key to light the interior lighting, parking lights, license plate lighting and the lights in the door mirrors*.
These lights will switch off automatically after 30, 60 or 90 seconds. See page 133 for a description of the menu system.

Unlock tailgate Ц Press the button twice within several seconds to disarm the alarm system and optional movement sensor (the alarm indicator light on the dashboard will go out), and unlock only the tailgate. Pressing this button for several seconds also opens the tailgate on models equipped with the optional power tailgate.
NOTE
As an added safety precaution, the parking lights will come on automatically for a short period when the tailgate has been opened.
After closing, the tailgate will not automatically relock. Press Lock to relock it and rearm the alarm.
See also the section "Unlocking the tailgate from the passenger compartment."

Panic alarm Ц This button can be used to attract attention during emergency situations.
To activate the panic alarm, press and hold this button for at least 3 seconds or press it twice within 3 seconds. The turn signals and horn will be activated. The panic alarm will stop automatically after 2 minutes and 45 seconds.
To deactivate, wait approximately 5 seconds and press the button again.
The Panic alarm button will not unlock the vehicle.
See also:
Steel cargo grid
Your vehicle can be equipped with a steel grid that helps prevent objects in the cargo area from moving forward into the passenger compartment. ...
Refueling
The fuel tank is designed to accommodate possible expansion of the fuel in hot weather. See page 284 for fuel tank volume. Be aware that the "usable" tank capacity will be somewhat les ...
New Tires
Remember that tires are perishable goods. As of 2000, the manufacturing week and year (Department of Transportation (DOT) stamp) will be indicated with 4 digits (e.g., 1510 means that the ti ...