Watching a video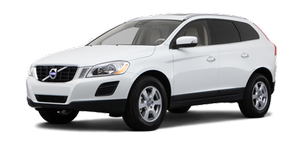 Video tracks/files can be viewed via the vehicle's media player or the USB socket.
For more information about the media player, see page 225 or page 227 for information about the USB socket.
1. Switch on the cordless headphones, select CH.A for the left screen or CH.B for the right screen.
2. Use the remote control's

button to select a screen (L: left rear screen, F: front screen, or R: right rear screen). Point the remote control toward a screen's IR transceiver and press

one or more times to select the desired source (Disc or USB), release the button and wait several seconds for your selection to be accepted.
3. Insert a DVD in the infotainment system's media player, or connect an external device to the vehicle's USB socket.
Playback and navigation
Play a video track/video file by pressing

on the remote control and change tracks/video files by pressing
. Stop playback by pressing

. See page 224 for more information about playback and navigation on video DVDs and page 225 for information about playing video files.
Fast forward/reverse Press and hold the
buttons to fast forward/reverse. Fast forward/reverse can be done at several speeds for video files by briefly pressing these buttons to increase the speed.
Fast forward/reverse is done at one speed for audio files. Stop fast forward/reverse by pressing

, or

the
buttons.
See also:
Operating
Operating the power windows 1 Manual up/down 2 Auto up/down. All power windows can be operated using the control panel in the driver's door. The control panels in the other doors only operate ...
Severe strain on the brake system
The brakes will be subject to severe strain when driving in mountains or hilly areas, or when towing a trailer. Vehicle speed is usually slower, which means that the cooling of the brakes is l ...
Operation
Chassis settings Use the buttons in the center console to change setting. The setting in use when the engine is switched off is activated the next time the engine is started. ...