Calibration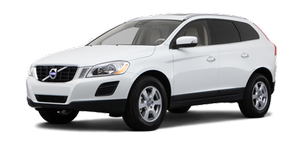 The compass may need to be calibrated if, for example, the vehicle is driven into a new magnetic zone. The character C is shown in the mirror's display if calibration is necessary.
1. Stop the vehicle in a large open area, safely out of traffic and away from steel structures and high-tension electrical wires.
2. Start the vehicle.
NOTE
For best results from calibration, switch off all electrical equipment in the vehicle (climate system, windshield wipers, audio system, etc.) and make sure that all doors are closed.
3. Using a pen or similar object, press and hold the button on the underside of mirror until C is shown again in the mirror(after approx. 6 seconds).
4. Drive as usual. C disappears from the display when calibration is complete.
Alternative calibration method:
Drive slowly in a circle at a speed of no more than 5 mph (8 km/h) until C disappears from the display when calibration is complete.
See also:
Replacing the low beam bulb (halogenheadlights)
1. Remove the plastic cover over the bulb by turning it counterclockwise. 2. Pull the connector from the lamp housing. 3. Loosen the bulb's retaining spring by first moving it to the right and t ...
Power tailgate
Power tailgate closing button ...
Deactivation
Move the gear selector from R to another position. There is a slight delay in the PAC system, which means that the view from behind the vehicle will remain on the screen for approximately 15 secon ...