Calibration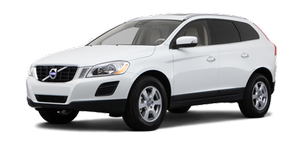 The compass may need to be calibrated if, for example, the vehicle is driven into a new magnetic zone. The character C is shown in the mirror's display if calibration is necessary.
1. Stop the vehicle in a large open area, safely out of traffic and away from steel structures and high-tension electrical wires.
2. Start the vehicle.
NOTE
For best results from calibration, switch off all electrical equipment in the vehicle (climate system, windshield wipers, audio system, etc.) and make sure that all doors are closed.
3. Using a pen or similar object, press and hold the button on the underside of mirror until C is shown again in the mirror(after approx. 6 seconds).
4. Drive as usual. C disappears from the display when calibration is complete.
Alternative calibration method:
Drive slowly in a circle at a speed of no more than 5 mph (8 km/h) until C disappears from the display when calibration is complete.
See also:
Limitations
NOTE • The sound source (AM, FM1, Disc, etc.) being played through the infotainment system's speakers cannot be controlled from the rear control panel. • In order to select and play an externa ...
Design concept
The Volvo S80 is a car that expresses a more dynamic evolution of Volvo's exterior design language. It's more sweeping, more elegant, tighter surfaced, and has a leaner and more agile look. &quo ...
Cleaning
Keeping the windshield and wiper blades clean helps improve visibility and prolongs the service life of the wiper blades. Clean the wiper blades with a stiff-bristle brush and lukewarm soap soluti ...