Rollover Protection System (ROPS)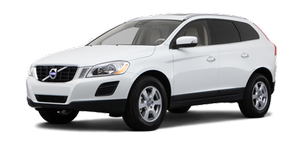 Volvo's Rollover Protection System utilizes the Roll Stability Control (RSC) function, which is designed to help minimize the risk of a rollover in emergency maneuvers or if a skid should occur.
RSC uses a gyroscopic sensor that registers the amount of change in the lateral angle at which the vehicle is leaning. Using this information, RSC calculates the likelihood of a rollover.
If there is an imminent risk of a rollover, the Dynamic Stability and Traction Control system (DSTC) is activated, power to the engine is cut and the brakes are applied to one or more of the wheels until the vehicle regains stability.
For additional information on DSTC, see page 149.
WARNING
The vehicle's stability systems, including ROPS and RSC, do not replace the driver's responsibility for operating the vehicle in a safe manner. Speed and driving style should always be adapted to the current road, traffic and weather conditions. Posted speed limits should always be respected.
See also:
Shiftlock override
If the vehicle cannot be driven, for example because of a dead battery, the gear selector must be moved from the P position before the vehicle can be moved. 1 Lift away the rubber mat on the ...
Design concept
The Volvo S80 is a car that expresses a more dynamic evolution of Volvo's exterior design language. It's more sweeping, more elegant, tighter surfaced, and has a leaner and more agile look. &quo ...
Weight distribution affects handling
At the specified curb weight your vehicle has a tendency to understeer, which means that the steering wheel has to be turned more than might seem appropriate for the curvature of a bend. This ensu ...