Rollover Protection System (ROPS)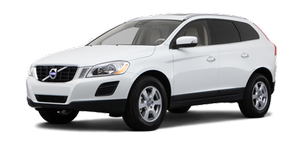 Volvo's Rollover Protection System utilizes the Roll Stability Control (RSC) function, which is designed to help minimize the risk of a rollover in emergency maneuvers or if a skid should occur.
RSC uses a gyroscopic sensor that registers the amount of change in the lateral angle at which the vehicle is leaning. Using this information, RSC calculates the likelihood of a rollover.
If there is an imminent risk of a rollover, the Dynamic Stability and Traction Control system (DSTC) is activated, power to the engine is cut and the brakes are applied to one or more of the wheels until the vehicle regains stability.
For additional information on DSTC, see page 149.
WARNING
The vehicle's stability systems, including ROPS and RSC, do not replace the driver's responsibility for operating the vehicle in a safe manner. Speed and driving style should always be adapted to the current road, traffic and weather conditions. Posted speed limits should always be respected.
See also:
Activating RSE
The RSE system can be activated using controls on the front or rear screens. From the front seat, press MEDIA (see the following illustration) and select RSE. From the rear seat, press the scree ...
Emergency Brake Assistance
EBA is designed to provide full brake effect immediately in the event of sudden, hard braking. The system is activated by the speed with which the brake pedal is depressed. When the EBA system i ...
Fog lights
Front fog lights The front fog lights can be used in combination with either the headlights or the parking lights. 1. Turn the ignition key to position II. 2. Press button (2) to turn on the fro ...