BRAKE Brake circuit malfunction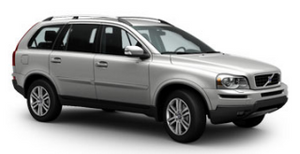 The brake system is a hydraulic system consisting of two master cylinders and two separate brake circuits. If a problem should occur in one of these circuits, it is still possible to stop the vehicle with the other brake circuit.
If the brake pedal must be depressed farther than normal and requires greater foot pressure, the stopping distance will be longer.
A warning light in the instrument panel will light up to warn the driver that a fault has occurred.
If this light comes on while driving or braking, stop immediately and check the brake fluid level in the reservoir.
NOTE
Press the brake pedal hard and maintain pressure on the pedal – do not pump the brakes.
WARNING
If the fluid level is below the MIN mark in the reservoir or if a Brake failure – Service urgent message is displayed in the text window: DO NOT DRIVE. Have the vehicle towed to a trained and qualified Volvo service technician and have the brake system inspected.
NOTE
When the vehicle is at a standstill and the engine is idling, e.g. at a traffic light and the brake pedal is depressed, the pedal may go down slightly. This is a normal function of the power-assisted brake system.
See also:
Fuel Formulations
Do not use gasoline that contains lead as a knock inhibitor, and do not use lead additives. Besides damaging the exhaust emission control systems on your vehicle, lead has been strongly linked to ...
Advanced Sirius settings
This menu function enables you to make settings on certain Sirius satellite radio functions. To access this menu: 1. Press OK/MENU. 2. Scroll to the Advanced settings menu and press OK/MENU. ...
Scan
This function plays the first ten seconds of each track/audio file. To start scanning: 1. Press OK/MENU. 2. Turn TUNE to Scan. > The first ten seconds of each track/ audio file will be played. ...