Seat belt maintenance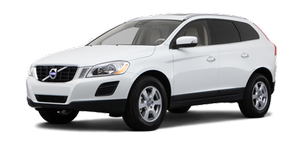 Check periodically that the seat belts are in good condition. Use water and a mild detergent for cleaning. Check seat belt mechanism function as follows: attach the seat belt and pull rapidly on the strap.
WARNING
Never use a seat belt for more than one occupant. Never wear the shoulder portion of the belt under the arm, behind the back or otherwise out of position. Such use could cause injury in the event of an accident. As seat belts lose much of their strength when exposed to violent stretching, they should be replaced after any collision, even if they appear to be undamaged.
WARNING
• Never repair the belt yourself; have this work done by a trained and qualified Volvo service technician only.
• Any device used to induce slack into the shoulder belt portion of the three-point belt system will have a detrimental effect on the amount of protection available to you in the event of a collision.
• The seat back should not be tilted too far back. The shoulder belt must be taut in order to function properly.
• Do not use child safety seats or child booster cushions/backrests in the front passenger's seat. We also recommend that children who have outgrown these devices sit in the rear seat with the seat belt properly fastened.
See also:
Limitations
Main channel vs. sub-channels (FM only): The main channel is the only channel that can receive in hybrid mode (both digital and analogue). If a frequency has subchannels, they are broadcast i ...
Bluetooth® hands-free
This feature makes it possible to set up a wireless connection between a Bluetooth®-enabled cell phone and the vehicle's infotainment system. This enables the infotainment system to function a ...
Front airbag deployment
• The front airbags are designed to deploy during certain frontal or front-angular collisions, impacts, or decelerations, depending on the crash severity, angle, speed and object impacted. The ...