Introduction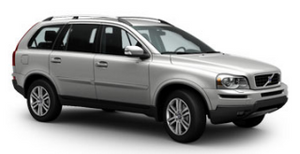 The RSE system can be used at the same time as the vehicle's audio system.
When the rear seat passengers play a DVD, connect an external device to the RSE AUX connectors, etc., and listen to the audio through the cordless headphones, the driver and front seat passenger can still use the vehicle's audio system to listen to the radio, a CD, music stored on an MP3 player, etc.
Please also refer to the Quick Guide provided with the RSE system for additional information.
Electrical current - ignition key
The RSE system can be activated with the ignition in position I or II (see page 141 for information on the ignition positions), or when the engine is running. While the engine is being started, a film or music that is currently being played will pause momentarily and resume playing when the engine has started.
When the RSE system has been used once when the ignition is switched off, it will be then be blocked for further use. RSE can be restarted by turning the ignition key to position I.
NOTE
Using RSE for more than approximately 10 minutes with the engine switched off may drain the vehicle's battery and make it difficult or impossible to start the engine.
If this occurs, a message will be displayed on the RSE system's screens.
See also:
What is an Onboard Diagnostic System (OBD II)?
OBD II is part of your vehicle's computerized engine management system. It stores diagnostic information about your vehicle's emission controls. It can light the Check Engine light (MIL) if it ...
Electrical system
General information 12 volt system with a voltage-regulated alternator. Single pole system in which the chassis and engine block are used as conductors. The negative terminal is connected to the ...
Steep inclines and/or heavy loads
ACC is primarily intended for use on fairly level roads. The system may have difficulty maintaining the correct distance to a vehicle ahead on steep inclines, if the vehicle is carrying a heav ...