Hoisting the vehicle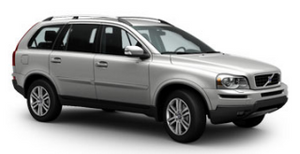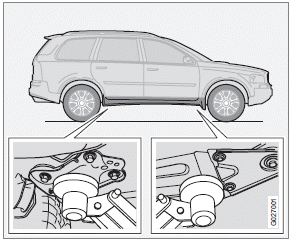 If a garage jack is used to lift the vehicle, the two jack attachments points should be used.
They are specially reinforced to bear the weight of the vehicle (see the illustration). A garage jack can also be placed under the front of the engine support frame. Take care not to damage the splash guard under the engine. Ensure that the jack is positioned so that the vehicle cannot slide off it. Always use axle stands or similar structures. The vehicle's gross vehicle weight is between 5770 lbs (2630 kg) and 6080 lbs (2760 kg). Use a jack and stands rated for this weight.
If a two-post hoist is used to lift the vehicle, the front and rear lift arm pads should be centered under the reinforced lift plates on the inboard edge of the sill rail (see illustration).
WARNING
The ignition system has very high voltage!
The voltage in the ignition system is dangerous!
Do not touch spark plugs, ignition cables or the ignition coil when the engine is running or the ignition is switched on!
The ignition should be switched off when:
Х Conducting engine tests.
Х Replacing parts in the ignition system, such as spark plugs, ignition coil, distributor, ignition cables, etc.
WARNING
Never try to repair any part of the SRS/ SIPS/WHIPS/IC systems yourself. Any interference in the system could cause malfunction and serious injury. Any work should only be performed by an authorized Volvo workshop.
See also:
Location of taillight bulbs
Brake lights (LEDs) Brake light Backup light Turn signals Rear fog light (driverТs side only) NOTE If an error message remains in the display after a faulty bulb has been replace ...
Reprogramming a Single HomeLinkButton
1. Press and hold the desired HomeLink button. DO NOT release the button. 2. The indicator light will begin to flash after 20 seconds. Without releasing the Home- Link button, proceed with УPr ...
Storing wheels and tires
When storing complete wheels (tires mounted on rims), they should be suspended off the floor or placed on their sides on the floor. Tires not mounted on rims should be stored on their sides or sta ...