Introduction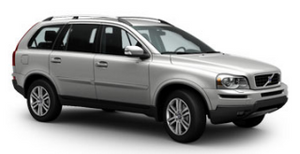 The symbols in the vehicle's various displays are divided into three main categories:
Х Warning symbols
Х Indicator symbols
Х Information symbols
The following tables list the most common symbols, their meaning and the pages in this manual that provide more detailed information.
Warning/information symbol
This symbol (

) lights up and glows red if the condition is related to safety and/or drivability or yellow to alert the driver to e.g., fill the washer fluid reservoir, etc. In either case, a message will be displayed in the instrument panel display.
See also:
Temporary Spare
Spare tireThe spare tire in your vehicle is called a "Temporary Spare". Recommended tire pressure (see the placard on the B-pillar or on the fuel filler door) should be maintained irr ...
Occupant Weight Sensor
Disabling the passenger's side front airbag Occupant Weight Sensor (OWS) indicator light Volvo recommends that ALL occupants (adults and children) shorter than 4 feet 7 inches (140 cm) be s ...
Use of Additives
With the exception of gas line antifreeze during winter months, do not add solvents, thickeners, or other store-bought additives to your vehicle's fuel, cooling, or lubricating systems. Overus ...