Replacing bulbs in the taillight cluster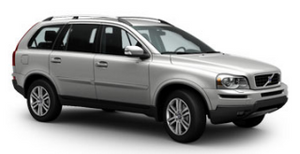 1. Switch off all lights and turn ignition key to position 0.
2. Fold down the lower section of the tailgate, and fold up the rear section of the cargo area floor.
3. If the vehicle is equipped with the optional grocery bag holder, detach the holder's bands.
4. Remove the corner panel.
5. Open the cover in the side panel by pulling the tab upward/outward.
6. Loosen the bolts.
7. Pull the entire tail light housing straight out.
8. Disconnect the wiring.
9. Place the tail light housing on a soft cloth to avoid scratching the lens.
10. Turn the lamp holder(s) counterclockwise and pull out.
11. Turn signal, back-up light, brake light bulbs: Turn the bulb counterclockwise and remove it.
12. Parking light bulbs: Pull the bulb straight out.
13. Insert a new bulb.
14. Place the lamp holder in the groove and turn clockwise.
15. Press wiring back into place.
16. Align the tail light housing with the holes for the retaining bolts and press it into place.
17. Tighten the retaining bolts.
18. Reinsert the side and corner panels.
See also:
Child restraint systems
Child restraints Infant seat There are three main types of child restraint systems: infant seats, convertible seats, and booster cushions. They are classified according to the child's age and s ...
Disabling the passenger's side front airbag
Occupant Weight Sensor (OWS) indicator light Volvo recommends that ALL occupants (adults and children) shorter than 4 feet 7 inches (140 cm) be seated in the back seat of any vehicle with a front ...
Reprogramming a Single HomeLink Button
To program a device to HomeLink using a HomeLink button previously trained, follow these steps: 1. Press and hold the desired HomeLink button. DO NOT release the button. 2. The indicator light ...