Replacing bulbs in the taillight cluster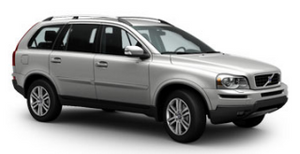 1. Switch off all lights and turn ignition key to position 0.
2. Fold down the lower section of the tailgate, and fold up the rear section of the cargo area floor.
3. If the vehicle is equipped with the optional grocery bag holder, detach the holder's bands.
4. Remove the corner panel.
5. Open the cover in the side panel by pulling the tab upward/outward.
6. Loosen the bolts.
7. Pull the entire tail light housing straight out.
8. Disconnect the wiring.
9. Place the tail light housing on a soft cloth to avoid scratching the lens.
10. Turn the lamp holder(s) counterclockwise and pull out.
11. Turn signal, back-up light, brake light bulbs: Turn the bulb counterclockwise and remove it.
12. Parking light bulbs: Pull the bulb straight out.
13. Insert a new bulb.
14. Place the lamp holder in the groove and turn clockwise.
15. Press wiring back into place.
16. Align the tail light housing with the holes for the retaining bolts and press it into place.
17. Tighten the retaining bolts.
18. Reinsert the side and corner panels.
See also:
Unbuckling the seat belt
To remove the seat belt, press the red section on the seat belt receptacle. Before exiting the vehicle, check that the seat belt retracts fully after being unbuckled. If necessary, guide the b ...
General information
Warning symbols in the instrument panel As an enhancement to the three-point seat belts, your Volvo is equipped with a Supplemental Restraint System (SRS). Volvo's SRS consists of seat belt p ...
General information
This system consists of inflatable curtains located along the sides of the roof liners, stretching from the center of both front side windows to the rear edge of the rear side door windows. It i ...