Replacing the high beam bulb (halogenheadlights)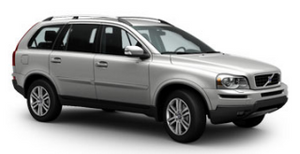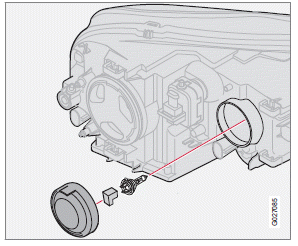 1. Remove the rubber cover by pulling it off.
2. Pull the connector from the lamp housing.
3. Loosen the bulb's retaining spring by first moving it to the right and then moving it out of the way.
4. Pull out the bulb from the holder.
5. Insert the new bulb (without touching the glass) in the holder.
6. Move the retaining spring up and push it slightly to the left until it seats properly.
7. Press the bulb holder into place on the headlight housing.
8. Press the rubber cover into place.
See also:
Occupant safety
Safety is Volvo's cornerstone. Our concern dates back to 1927 when the first Volvo rolled off the production line. Three-point seat belts (a Volvo invention), safety cages, and energyabsorbing ...
Day/Night mode
The screens can be set for three different lighting conditions: Auto, Day or Night. Press on the remote control and change the setting under Day/Night mode on the screen. See also page 251 f ...
Operating
Operating the power windows 1 Manual up/down 2 Auto up/down. All power windows can be operated using the control panel in the driver's door. The control panels in the other doors only operate ...