Replacing the high beam bulb (halogenheadlights)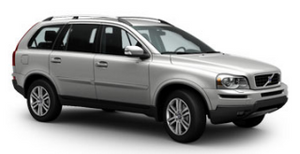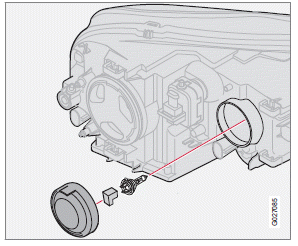 1. Remove the rubber cover by pulling it off.
2. Pull the connector from the lamp housing.
3. Loosen the bulb's retaining spring by first moving it to the right and then moving it out of the way.
4. Pull out the bulb from the holder.
5. Insert the new bulb (without touching the glass) in the holder.
6. Move the retaining spring up and push it slightly to the left until it seats properly.
7. Press the bulb holder into place on the headlight housing.
8. Press the rubber cover into place.
See also:
Pedestrian safety
The Volvo V50 Sportswagon has been designed to minimise the risk of injury to pedestrians and cyclists in the event of an accident. The smoothly shaped front has an energy-absorbing structure ahea ...
Automatic standby mode
Adaptive cruise control is linked to other systems such as the stability and traction control system (DSTC). If this system is not functioning properly, adaptive cruise control is automatically ...
Environment
Volvo is passionately committed to protecting our environment. Along with safety, environmental protection is a cornerstone of the Volvo brand, commensurate with the company's philosophy to protect ...