Replacing the high beam bulb (halogenheadlights)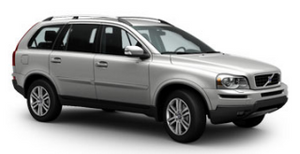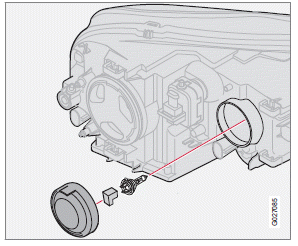 1. Remove the rubber cover by pulling it off.
2. Pull the connector from the lamp housing.
3. Loosen the bulb's retaining spring by first moving it to the right and then moving it out of the way.
4. Pull out the bulb from the holder.
5. Insert the new bulb (without touching the glass) in the holder.
6. Move the retaining spring up and push it slightly to the left until it seats properly.
7. Press the bulb holder into place on the headlight housing.
8. Press the rubber cover into place.
See also:
Standby mode (temporary deactivation)
Press to temporarily deactivate cruise control (put it in standby mode). The set speed, for example 55 mph, is then shown in parentheses. The previously set speed and time interval are resumed by ...
Interior design
The interior of the new Volvo C70 has also been given an update to create a more comfortable and luxury feel. The instrument panel has been redesigned to give it a wider, sleeker look with improve ...
Turning off the accessory alarm sensors
In certain situations it may be desirable to turn off the accessory inclination and movement alarm sensors if, for example, you drive your vehicle onto a ferry where the rocking of the boat could ...