Replacing the low beam bulb (halogenheadlights)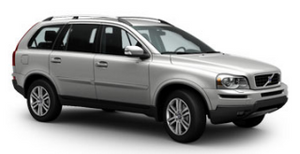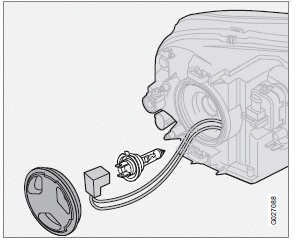 1. Remove the plastic cover over the bulb by turning it counterclockwise.
2. Pull the connector from the lamp housing.
3. Loosen the bulb's retaining spring by first moving it to the right and then moving it out of the way.
4. Pull out the bulb from the holder.
5. Insert the new bulb (without touching the glass) in the holder.
6. Move the retaining spring up and push it slightly to the left until it seats properly.
7. Press the bulb holder into place on the headlight housing.
8. Reinstall the plastic cap. The letters "HAUT" on the cap must be upward.
See also:
The Federal Clean Air Act – U.S.
The Federal Clean Air Act requires vehicle manufacturers to furnish written instructions to the ultimate purchaser to assure the proper servicing and function of the components that control em ...
Snow chains, snow tires, studded tires
Snow chains Snow chains can be used on your Volvo with the following restrictions: Snow chains should be installed on front wheels only. Use only Volvo approved snow chains. If accessory, af ...
How BLIS functions in daylight anddarkness
Daylight BLIS reacts to the shape of surrounding vehicles. The system is designed to help detect motor vehicles such as cars, trucks, buses, motorcycles, etc. Darkness BLIS reacts to the headl ...