The alarm system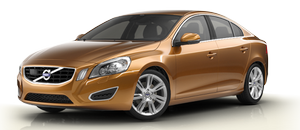 The alarm is automatically armed whenever the vehicle is locked with the remote key or optional Personal Car Communicator.
When armed, the alarm continuously monitors a number of points on the vehicle. The following conditions will trigger the alarm:
The hood is forced open.
The trunk is forced open
A door is forced open.
The ignition slot is tampered with.
An attempt is made to start the vehicle with a non-approved key (a key not coded to the car's ignition).
If there is movement in the passenger compartment (if the vehicle is equipped with the accessory movement sensor).
The vehicle is lifted or towed (if the vehicle is equipped with the accessory inclination sensor).
The battery is disconnected (while the alarm is armed).
The siren is disconnected when the alarm is disarmed.
A message will appear in the information display if a fault should occur in the alarm system. Contact a trained and qualified Volvo service technician.

NOTE
Do not attempt to repair any of the components in the alarm system yourself. This could affect the insurance policy on the vehicle.
See also:
Demanding driving
In demanding driving conditions, such as operating the vehicle in hot weather, towing a trailer, or driving for extended periods at higher altitudes than normal, it may be advisable to switch ...
Symbols and messages in the display
...
Tire Pressure Monitoring System (TPMS)
NOTE USA – FCC ID: KR5S122780002 This device complies with part 15 of the FCC rules. Operation is subject to the following conditions: (1) This device may not cause harmful interference, and ...