Unbuckling the seat belt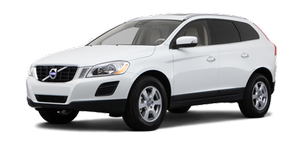 To remove the seat belt, press the red section on the seat belt receptacle. Before exiting the vehicle, check that the seat belt retracts fully after being unbuckled. If necessary, guide the belt back into the retractor slot.
See also:
Blower control
Turn the control clockwise to increase or counterclockwise to decrease the blower speed. If AUTO is selected, blower speed will be regulated automatically and this will override manual adjustment. ...
Standby mode (temporary deactivation)
Press to temporarily deactivate cruise control (put it in standby mode). The set speed, for example 55 mph, is then shown in parentheses. The previously set speed and time interval are resumed by ...
Power steering fluid reservoir
The fluid level should always be between the ADD and FULL marks. Fluid type: Volvo synthetic power steering fluid (Pentosin CHF 11S) P/N 1161529 or equivalent. Replace: No fluid change requi ...