Brake fluid reservoir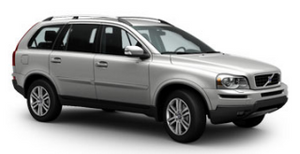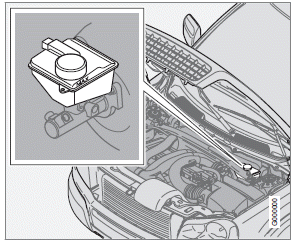 The brake fluid should always be above the MIN mark on the side of the reservoir. Check, without removing the cap, that there is sufficient fluid in the reservoir.
Fluid type: DOT 4+ boiling point >536 °F (>280 °C), P/N 9437433.
Replace: Every second year or 30,000 miles (48,000 km). The fluid should be replaced once a year or every 15,000 miles (24,000 km) when driving under extremely hard conditions (mountain driving, etc.).
Always entrust brake fluid changing to a trained and qualified Volvo service technician.
WARNING
• If the fluid level is below the MIN mark in the reservoir or if a brake-related message is shown in the information display: DO NOT DRIVE. Have the car towed to a trained and qualified Volvo service technician and have the brake system inspected.
• Dot 4+ should never be mixed with any other type of brake fluid.
See also:
Handling, roadholding
Vehicle load, tire design and inflation pressure all affect vehicle handling. Therefore, check that the tires are inflated to the recommended pressure according to the vehicle load. See the " ...
Blower function to reduce battery drain
The climate system's blower functions normally while the engine is running. However, when the engine is switched off (even if the ignition is switched to positions I or II), the blower control w ...
Low beam, Halogen
1. Remove the headlight housing from the vehicle (see page 306). 2. Remove the cover over the bulbs (see page 308). 3. Unplug the connector from the bulb. 4. Remove the bulb by pulling it straigh ...