Brake fluid reservoir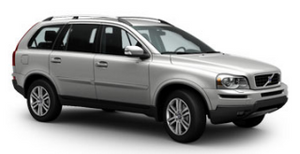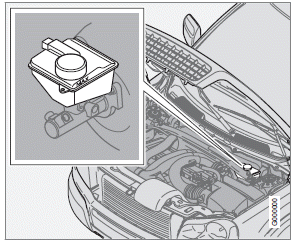 The brake fluid should always be above the MIN mark on the side of the reservoir. Check, without removing the cap, that there is sufficient fluid in the reservoir.
Fluid type: DOT 4+ boiling point >536 °F (>280 °C), P/N 9437433.
Replace: Every second year or 30,000 miles (48,000 km). The fluid should be replaced once a year or every 15,000 miles (24,000 km) when driving under extremely hard conditions (mountain driving, etc.).
Always entrust brake fluid changing to a trained and qualified Volvo service technician.
WARNING
• If the fluid level is below the MIN mark in the reservoir or if a brake-related message is shown in the information display: DO NOT DRIVE. Have the car towed to a trained and qualified Volvo service technician and have the brake system inspected.
• Dot 4+ should never be mixed with any other type of brake fluid.
See also:
Approach lighting
Approach lighting is activated by pressing the approach light button on the remote key (see the illustration on page 57). When the function has been activated, the parking lights, indicator lights, ...
Lower cross member
The front structure has been supplemented by a lower cross member that adapts the front to the height of a normal-sized passenger car. This enables the other car's deformation zones to function as ...
Location of taillight bulbs
Brake lights (LEDs) Brake light Backup light Turn signals Rear fog light (driver's side only) NOTE If an error message remains in the display after a faulty bulb has been replace ...