Check coolant level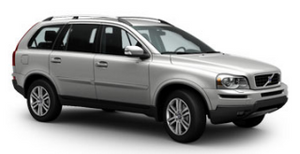 The cooling system must be filled with coolant and not leak to operate at maximum efficiency.
Check the coolant level regularly. The level should be between the MAX and MIN marks on the expansion tank. The check should be made with particular thoroughness when the engine is new or when the cooling system has been drained.
Do not remove the filler cap other than for topping up with coolant. Frequent removal may prevent coolant circulation between the engine and the expansion tank during engine warm up and cooling.
See also:
C30 in the Market
I enjoyed my time in the C30, and the more I drove it the more I liked it. The good visibility and decent power (when using the manual shift feature) were the highlights. The downsides are its lim ...
Turning off (stopping) the alarm
If the alarm is sounding, it can be stopped by pressing the Unlock button on the remote key or by inserting the remote key in the ignition slot. Two short flashes from the car's direction indi ...
Fast forward/reverse
Press and hold the buttons to fast forward/reverse. This is done at one speed for audio files but several speeds can be chosen for video files. Press the / buttons several times to increase the s ...