Load carriers (accessory)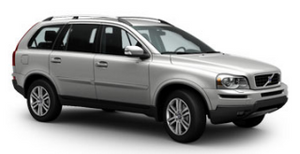 Positioning load carriers
If wing-shaped load carriers are used, make sure that they are installed on the roof rails with the rounded edge forward. Load carriers of this type are identical and can be placed anywhere along the roof rails.
When not in use, we recommend that the front load carrier be placed approximately 2 inches (5 cm) in front of the center roof rail anchorage point and the rear load carrier approximately 1.5 inches (3.5 cm) in front of the rear rail anchorage. This will help to reduce wind noise.
Installing load carriers
Make sure that the load carriers are pressed firmly out against the roof rail and securely tightened place. Check regularly that any load carriers are securely in place.
WARNING
Loads carried on the vehicle's roof should not exceed 220 lbs (100 kg), including the weight of the load carriers and any other load carrying equipment (ski boxes, bicycle racks, etc.). Excessive loads on the roof can adversely affect the handling and roadholding characteristics of the vehicle.
See also:
CHANGE CODE
This function makes it possible to change the channel access code. The default code is 0000. To change the code: 1. Select CHANGE CODE and press ENTER. 2. Enter the current code and press ENTE ...
Radio text
The text that is displayed about the song currently playing can be changed. Use the AUTO button to switch between Artist, Title, Composer, or to switch radio text off, or use the menu to display a ...
Automatic connection
When the hands-free system is active and the most recently connected cell phone is within range, it is connected automatically. If this phone is not within range, the hands-free system will at ...