Installing the wheel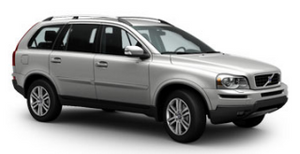 1. Clean the contact surfaces on the wheel and hub.
2. Lift the wheel and place it on the hub.
3. Install the wheel bolts and tighten handtight.
Using the lug wrench, tighten crosswise until all bolts are snug.
4. Lower the vehicle to the ground and alternately tighten the bolts crosswise to 103 ft.lbs. (140 Nm).
5. Install the wheel cover (where applicable).
WARNING
• The jack must correctly engage the bar in the jack attachment. The vehicle's weight must not rest on the jack attachment.
See illustration "Attaching the jack" on the previous page.
• Be sure the jack is on a firm, level, nonslippery surface.
• Never allow any part of your body to be extended under a vehicle supported by a jack.
• Use the jack intended for the vehicle when replacing a wheel. For any other job, use stands to support the side of the vehicle being worked on.
• Apply the parking brake and put the gear selector in the (P)ark position.
• Block the wheels standing on the ground, use rigid wooden blocks or large stones.
• The jack should be kept well-greased and clean, and should not be damaged.
• No objects should be placed between the base of jack and the ground, or between the jack and the attachment bar on the vehicle.
The jack and tools should be returned to their storage spaces. The jack should be cranked down fully so that it fits into the intended space.
See also:
Marker lines
1 - Marker line for a 1-foot (30-centimeter) zone behind the vehicle 2 - Marker line for the clear back-up zone 3 - "Wheel tracks" The solid line (1) indicates a zone within 1 ft (30 ...
Erasing HomeLink Buttons
To erase programming from the three Home- Link buttons (individual buttons cannot be erased but can be "reprogrammed" as outlined below), follow the step noted: 1. Press and hold the two outer ...
Sensors
The sunlight sensor on the dashboard and passenger compartment temperature sensor in the ECC control panel should not be covered in any way as this could cause incorrect information to be sent to ...