Emergency Brake Assistance (EBA)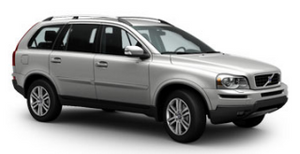 The EBA function is designed to provide full brake effect immediately in the event of sudden, hard braking. The system is activated by the speed with which you depress the brake pedal.
NOTE
• When the EBA system is activated, the brake pedal will go down and pressure in the brake system immediately increases to the maximum level. You must maintain full pressure on the brake pedal in order to utilize the system completely.
There will be no braking effect if the pedal is released. EBA is automatically deactivated when the brake pedal is released.
• When the vehicle has been parked for some time, the brake pedal may sink more than usual when the engine is started. This is normal and the pedal will return to its usual position when it is released.
See also:
Comfort
Comfort mode offers a somewhat softer ride and the transmission shifts gears at lower rpm. This mode is particularly suitable for long-distance highway driving. The indicator light in the butto ...
Radio text
The text that is displayed about the song currently playing can be changed. Use the AUTO button to switch between Artist, Title, Composer, or to switch radio text off, or use the menu to display a ...
Wiper blades
The windshield wiper blades are different lengths. The blade on the driver's side is longer than the one on the passenger side. ...