Brake pad inspection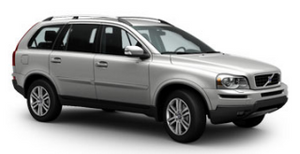 On vehicles equipped with a jack, the condition of the brake pads can be checked by raising the vehicle (see page 190 for information about using the jack and removing a wheel) and performing a visual inspection of the brake pads.
WARNING
Х If the vehicle has been driven immediately prior to a brake pad inspection, the wheel hub, brake components, etc., will be very hot. Allow time for these components to cool before carrying out the inspection.
Х Apply the parking brake and put the gear selector in the Park (P) position.
Х Block the wheels standing on the ground, use rigid wooden blocks or large stones.
WARNING
Х Use the jack intended for the vehicle when changing a tire. For any other job, use stands to support the vehicle.
Х The jack should be kept well-greased and clean, and should not be damaged.
Х Be sure the jack is on a firm, level, nonslippery surface.
Х No objects should be placed between the base of jack and the ground, or between the jack and the attachment bar on the vehicle.
Х The jack must correctly engage the jack attachment.
Х Never allow any part of your body to be extended under a vehicle supported by a jack.
See also:
Severe strain on the brake system
The brakes will be subject to severe strain when driving in mountains or hilly areas, or when towing a trailer. Vehicle speed is usually slower, which means that the cooling of the brakes is less ...
Tire age
Tires degrade over time, even when they are not being used. It is recommended that tires generally be replaced after 6 years of normal service. Heat caused by hot climates, frequent high loadi ...
Resetting
If the battery has been disconnected, the auto open function must be reset so that it will work properly. 1. Gently raise the front section of the button to close the window and hold it for one ...