Contact shortcuts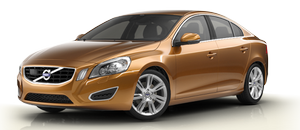 A quick way of searching the phone book for contacts in normal view is to turn TUNE clockwise to access the phone book and then counter- clockwise to select a contact from the list. Press OK/MENU to call.
Each name in the phone book has a default phone number. If the symbol is displayed to the right of it, this indicates that there are additional phone numbers for this contact. To use a phone number other than the default one, press the #INFO button on the center console control panel. Turn TUNE to select a different phone number and press OK/MENU to call.
It is also possible to search for a contact by using the center console keypad to enter the first letter(s) of the contact's name (see also the following table "Buttons in the center console" for each button's function).
The list of contacts can also be accessed from normal view by pressing and holding the button on the center console keypad with the first letter of the contact's name. For example, pressing and holding button 6 would provide direct access to the section of the list with contacts whose names begin with M.
See also:
Marker lines
1 - Marker line for a 1-foot (30-centimeter) zone behind the vehicle 2 - Marker line for the clear back-up zone 3 - "Wheel tracks" The solid line (1) indicates a zone within 1 ft (30 ...
Location of taillight bulbs
Taillight lens, right side 1 Parking/side marker lights (LED) 2 Side reflector 3 Brake light 4 Backup light 5 Turn signal 6 Brake lights (LED) NOTE If an error message remains in the display ...
Settings made from the front center control panel
1 MEDIA 2 TUNE 3 OK/MENU 4 EXIT ...