Scan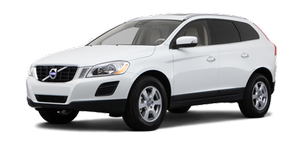 The function automatically searches the current waveband for radio stations. When a station is found, it is played for several seconds before scanning is resumed. While the station is playing it can be stored as a preset in the usual way (see "Manually storing preset stations").
To start scanning in AM/FM mode, go to FM menu

Scan or in AM menu

Scan.
Stop station scanning by pressing EXIT.
NOTE
Storing a station interrupts the SCAN function.
See also:
Compatible formats
The media player can play a number of different types of files and disc formats, and is compatible with the formats listed in the following table. NOTE Dual format (double-sided discs) such as ...
2012 Volvo XC70 Review
The Volvo XC70 is the quintessential station wagon, the most "Volvo-like" Volvo on the road today. Having one parked in my driveway takes me back to my childhood — riding to and from ...
Screen aspect ratio
Three screen aspect ratios can be set: Normal, Zoom 1 and Zoom 2. Normal: The image on the screen is presented at the normal aspect ratio (usually 4:3 or 16:9). Zoom 1: Full-screen image, but par ...