Tailgate wiper/washer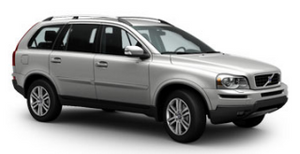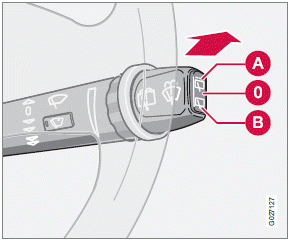 A section of the switch
O Neutral position: The wiper is switched off
B Normal (continuous) wiping: Press the lower section of the switch
Move the lever forward to start the tailgate washer. After washing the rear window, the wiper will make several additional sweeps.
Tailgate wiper and reverse gear
If the front wipers are on and the transmission is put into reverse gear, the tailgate wiper will go into intermittent wiping function1.
If the tailgate wiper is already in normal wiping function, the normal wiping function will continue.
See also:
Automatic transmission – shift gatepositions
Shift gate positions Depress the button on the front of the gear selector knob to move between the R, N, D, and P positions. Kickdown Automatic shift to a lower gear (kickdown) is achieved by ...
Engaging the cruise control function
Before a speed can be set, the cruise control system must be engaged (put in standby mode). Press the symbol (1). > The symbol illuminates and the text (---) mph (5) indicates that crui ...
Location of taillight bulbs
Brake lights (LEDs) Brake light Backup light Turn signals Rear fog light (driver's side only) NOTE If an error message remains in the display after a faulty bulb has been replace ...