Manually unlocking the fuel filler door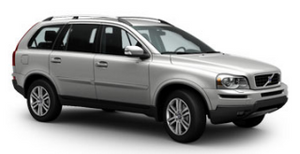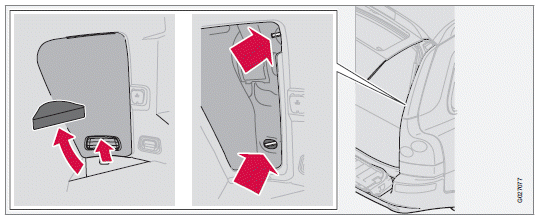 Panel on passenger's side of cargo area
To manually unlock the fuel filler door
1. Open the upper and lower sections of the tailgate, and fold up the rear section of the cargo area floor.
2. If the vehicle is equipped with the optional grocery bag holder, detach the holder's bands.
3. Remove the corner panel from the floor of the cargo area.
4. Open the cover in the side panel by pulling the tab upward/outward.
5. Pull down the insulating material to access the fuel filler door motor.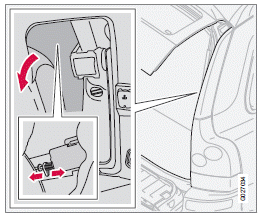 6. Move the catch rearward to unlock the fuel filler door lock, or move it forward to lock the filler door.
See also:
New dynamic chassis
The new Volvo S60 is the most sporting Volvo ever built and during the development process, the chassis team refined every single detail to fine tune the driving experience. The result of their la ...
Changing coolant
Normally, the coolant does not need to be changed. If the system must be drained, consult a trained and qualified Volvo service technician. Do not top off with water only. This reduces the rust- ...
Occupant safety reminders
How safely you drive doesn't depend on how old you are but rather on: Х How well you see. Х Your ability to concentrate. Х How quickly you make decisions under stress to avoid an accident. The ...