Introduction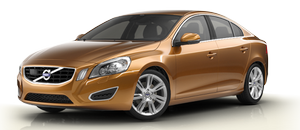 Distance Alert is part of Adaptive Cruise Control and is a function that provides information about the time interval to the vehicle ahead.
Distance Alert is active at speeds above approximately 18 mph (30 km/h). Time interval information is only given for a vehicle that is driving ahead of your vehicle in the same direction. No information is provided for vehicles driving toward you, moving very slowly, or at a standstill.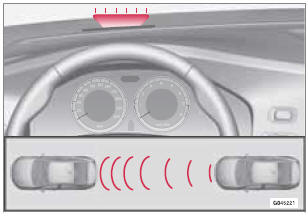 Amber warning light1.
An amber warning light in the windshield glows steadily if your vehicle is closer to the one ahead than the set time interval.

NOTE
Distance Alert only monitors distance to the vehicle ahead while Adaptive Cruise Control is in standby mode or off.

WARNING
Distance Alert only indicates the distance to the vehicle ahead. It does not affect the speed of your vehicle.
See also:
Rear seats
The seat belt reminder in the rear seat has two additional functions: • It provides information about which seat belts are fastened in the rear seat. A message will appear in the information di ...
Bluetooth® functions in the center console control panel
Character keys containing letters and numbers for dialing numbers, adding phone book entries, etc. TEL: Press this button to activate/deactivate the Bluetooth function. TUNE: Turn to navig ...
Belt check
Check the belt regularly to make sure it is in good condition and is clean. A worn or dirty belt can cause poor cooling and low alternator output as well as impair the operation of the power steer ...