Introduction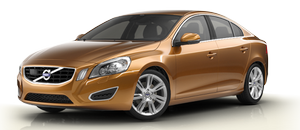 Distance Alert is part of Adaptive Cruise Control and is a function that provides information about the time interval to the vehicle ahead.
Distance Alert is active at speeds above approximately 18 mph (30 km/h). Time interval information is only given for a vehicle that is driving ahead of your vehicle in the same direction. No information is provided for vehicles driving toward you, moving very slowly, or at a standstill.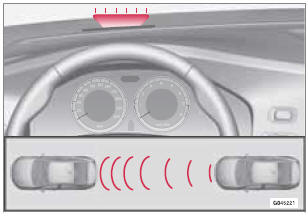 Amber warning light1.
An amber warning light in the windshield glows steadily if your vehicle is closer to the one ahead than the set time interval.

NOTE
Distance Alert only monitors distance to the vehicle ahead while Adaptive Cruise Control is in standby mode or off.

WARNING
Distance Alert only indicates the distance to the vehicle ahead. It does not affect the speed of your vehicle.
See also:
Blind Spot Information System
1 BLIS camera 2 Indicator light 3 BLIS symbol The Blind Spot Information System (BLIS) is an information system that indicates the presence of another vehicle moving in the same direction as y ...
Automatic re-arming
If the doors are unlocked, the locks will automatically reengage (re-lock) and the alarm will re-arm after 2 minutes unless a door or the tailgate has been opened. ...
Replacing fuses
There are relay/fuse boxes located in the engine compartment, the passenger compartment, and the cargo area. If an electrical component fails to function, this may be due to a blown fuse. The e ...