Oil pressure warning light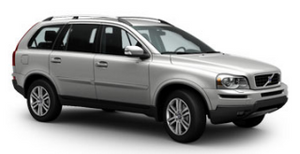 If the light comes on while driving, stop the vehicle and then stop the engine immediately and check the engine oil level. If the light stays on after restart, have the vehicle towed to the nearest trained and qualified Volvo service technician.
After hard driving, the light may come on occasionally when the engine is idling. This is normal, provided it goes off when the engine speed is increased.
See also:
Disabling the passenger's side front airbag
Volvo recommends that ALL occupants (adults and children) shorter than 4 feet 7 inches (140 cm) be seated in the back seat of any vehicle with a front passenger side airbag, and be properly re ...
Faults in the system
If the yellow warning symbol illuminates and PARK ASSIST SERVICE REQUIRED is shown on the information display, this indicates that the system is not functioning properly and has been disengage ...
Screen settings
Screen settings can be made (when the vehicle is not moving) for: • Brightness • Contrast 1. PressOK/MENU and choose Image settings and confirm by pressing OK/ MENU. 2. Turn TUNE to the desi ...