Replacing the daytime running lightbulb (models with Active BendingLights only)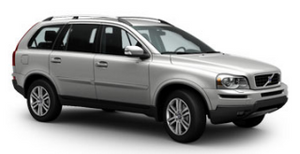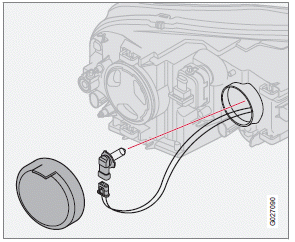 1. Remove the rubber cover over the bulb by pulling it off.
2. Turn the bulb holder counterclockwise and pull it out of the headlight housing.
3. Remove the connector from the bulb unit by pressing the lock tab out and pulling.
4. Connect the connector to the new bulb unit until it clicks into place.
5. Press a new bulb unit into the headlight housing and turn it clockwise into place.
6. Reinstall the plastic cover.
See also:
Additional fuses in the cargo compartment (XC90 Executive)
The fuses in the cargo area are located behind the panel on the driver's side of the cargo compartment. When replacing a blown fuse, be sure to replace it with a new one of the same color and ...
Seeing, Being Seen & Being Heard
Visibility is good in the C30, even bordering on exceptional. I didn't find any objectionable blind spots, though the side mirrors could be a bit larger. In addition to being a distinguishing des ...
Calibration
The compass may need to be calibrated if, for example, the vehicle is driven into a new magnetic zone. The character C is shown in the mirror's display if calibration is necessary. 1. Stop th ...