Hoisting the vehicle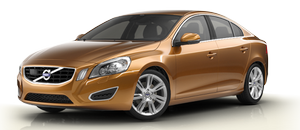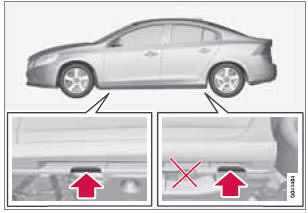 If a garage jack is used to lift the vehicle, the two jack attachments points should be used.
They are specially reinforced to bear the weight of the vehicle. A garage jack can also be placed under the front of the engine support frame. Take care not to damage the splash guard under the engine. Ensure that the jack is positioned so that the vehicle cannot slide off it. Always use axle stands or similar structures.
If a two-post hoist is used to lift the vehicle, the front and rear lift arm pads should be centered under the reinforced lift plates on the inboard edge of the sill rail (see illustration).
See also:
Drive (D)
D is the normal driving position. The car automatically shifts between the various forward gears, based on the level of acceleration and speed. The car must be at a standstill when shifting from p ...
Windshield wiper blades
To change a windshield wiper blade: 1. Fold the wiper arm out from the windshield and hold the wiper blade. 2. Press in the grooved catches and pull out the wiper blade. 3. Insert a new wiper ...
Air vents in the door pillars
a Closed b Open c Horizontal airflow d Vertical airflow Direct the outer air vents toward the side windows to defrost. Direct the vents into the passenger compartment to help maintain the d ...