Precautions when the vehicle is being towed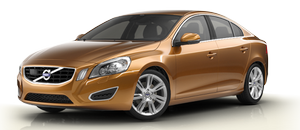 Attach jumper cables (see page 116) to provide current for releasing the electric parking brake and to move the gear selector from the P position to N.
Be sure that the steering wheel lock is released (see page 94).
While the vehicle is being towed, set the ignition in mode II if the battery is not drained so that the headlights/taillights can be switched on. See page 86 for information on the ignition modes.
Maximum speed: 50 mph (80 km/h). Do not exceed the maximum allowable towing speed.
Maximum distance with front wheels on ground: 50 miles (80 km).
While the vehicle is being towed, try to keep the tow rope taut at all times.
The vehicle should only be towed in the forward direction.
CAUTION
Vehicles with AWD (All Wheel Drive) with the front wheels off the ground should not be towed at speeds above 50 mph (70 km/h) or for distances longer than 30 miles (50 km).
CAUTION
Please check with state and local authorities before attempting this type of towing, as vehicles being towed are subject to regulations regarding maximum towing speed, length and type of towing device, lighting, etc.
If the vehicle's battery is dead, do not attempt to start the vehicle by pushing or pulling it as this will damage the three-way catalytic converter(s). The engine must be jump started using an auxiliary battery (see page 116).
If the vehicle is being towed on a flat bed truck, the towing eyelets must not be used to pull the vehicle up onto the flat bed or to secure the vehicle on the flat bed. Consult the tow truck operator.
See also:
Station search
1. Choose radio mode AM/FM1/FM2 using the SELECTOR control (3) or the AM/FM button (1). 2. Press briefly on to search for the next strong station. The radio will search for the next audible st ...
Audio volume and automatic volume control
The infotainment system compensates for disrupting noises in the passenger compartment by increasing the volume according to the speed of the vehicle. The level of sound compensation can be set at ...
Storing wheels and tires
When storing complete wheels (tires mounted on rims), they should be suspended off the floor or placed on their sides on the floor. Tires not mounted on rims should be stored on their sides or sta ...