Advanced Stability Control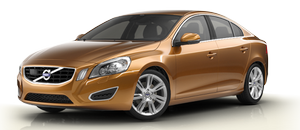 The Dynamic Stability and Traction Control (DSTC) in the all-new Volvo S60 has a number of sophisticated features to improve driving pleasure and safety. The Volvo S60 is the first saloon on the market with Volvo's Advanced Stability Control. With a new roll sensor, it's possible to identify any skidding tendency at a very early stage. This means that the anti-skid system can step in earlier and with greater precision. Advanced Stability Control is a great asset in dynamic driving that involves considerable lateral forces.
New Corner Traction Control for smoother curves
The dynamic new chassis is backed up by a range of electronic systems that further sharpen the sporty driving experience. Corner Traction Control is a new feature that uses torque vectoring so the car takes corners more smoothly. This technology is a further refinement of the DSTC system. When taking a curve, the car's inner driven wheel is braked at the same time as more power is transmitted to the outer driven wheel. This allows the driver to take the corner more tightly while reducing any tendency to understeer.
Advanced, integrated braking functions
A highly advanced braking system is an important part of the dynamic driving properties of the all-new Volvo S60. A number of features interact to provide the shortest possible stopping distance in all scenarios. Technology includes:
Ready Alert Brakes can predict when emergency braking is needed. The brake calipers are applied lightly to the brake discs even before the driver presses the brake pedal.
Hydraulic Brake Assist helps the driver brake in the shortest possible distance. In an emergency situation where the driver does not press the brake pedal fast or hard enough, Hydraulic Brake Assist can help utilise the ABS system optimally and thus shorten the overall braking distance.
Optimised Hydraulic Brakes is a system that amplifies braking ability during firm braking by using hydraulics to compensate for low vacuum pressure in the brake servo.
Fading Brake Support uses the hydraulic system to gradually build up brake pressure during long, hard braking. This helps reduce the risk of brake fade and maintains pedal feel.
The all-new S60 is equipped with an Electronic Parking Brake as standard.
FOUR-C as an option
All variants of the new Volvo S60 can be specified with the FOUR-C active chassis, which has been modified and refined for better control and comfort. This is an advanced, self-adjusting chassis system that uses a number of sensors to continuously monitor the car's behaviour. In mere fractions of a second, the dampers are adjusted to suit the current driving situation.
With three alternative chassis settings, all it takes is for the driver to press a button to alter the car's character: Comfort, Sport or Advanced.
See also:
Climate system maintenance
Special tools and equipment are required to maintain and carry out repairs on the climate system. Work of this type should only be done by a trained and qualified Volvo service technician. ...
Tunnel console
1 - Storage compartment (for CDs, etc.) under armrest, AUX input/USB connector. 2 - Includes cup holder for driver and passenger, 12-volt socket and small storage compartment. ...
Tire wear
Tire rotation Your vehicle has no required tire rotation. Tire wear is affected by a number of factors such as tire inflation, ambient temperature, driving style, etc. NOTE • If the tires are ro ...