Searching for contacts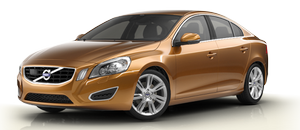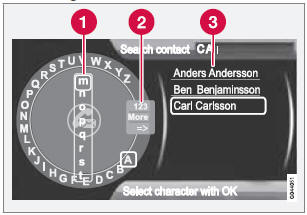 Searching for contacts using the text wheel
List of characters
Switch between character entry modes (see the following table)
Phone book (list of contacts)
To search for or edit a contact in phone mode, go to Phone menu Phone book Search.
1. Turn TUNE to the desired letter and press OK/MENU to confirm. The number/letter keys on the center console can also be used.
2. Continue to the next letter, etc. The results of the search will be displayed in the phone book (3).
3. To switch from letter entry mode to the entry mode for numbers or special characters, or to go to the phone book, turn TUNE to one of the selections (see the explanation in the following table) in the list for switching character entry mode (2) and press OK/MENU.
Character entry modes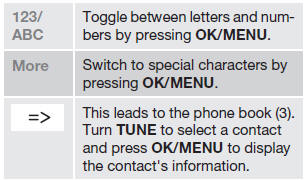 Press EXIT briefly to erase a single character. Press and hold EXIT to erase all of the characters that have been entered.
If a number button on the center console is pressed while the text wheel is displayed, a list of characters (1) will be displayed. Briefly press the button once to enter its first letter, twice to enter the second letter, etc. Continue to press the button to display other characters. Continue with the next character, etc.
To enter a number, press and hold the button.
See also:
Repeat
This function makes it possible to play files in a folder repeatedly. When the last file has been played, the first file will begin again. To activate: 1. Press OK/MENU. 2. Turn TUNE to Repeat f ...
Blind Spot Information System
1 BLIS camera 2 Indicator light 3 BLIS symbol The Blind Spot Information System (BLIS) is an information system that indicates the presence of another vehicle moving in the same direction as y ...
Emergency Brake Assistance
EBA is designed to provide full brake effect immediately in the event of sudden, hard braking. The system is activated by the speed with which the brake pedal is depressed. When the EBA system i ...