Standby mode (temporary deactivation)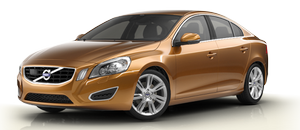 Press

to temporarily deactivate cruise control (put it in standby mode). The set speed, for example 55 mph, is then shown in parentheses. The previously set speed and time interval are resumed by pressing

.

WARNING
There may be a significant increase in speed after the

button has been pressed.
When ACC is in active mode, the vehicle's speed increases by approximately 1 mph (1 km/h) each additional time

is pressed.
See also:
Automatic relocking
If the doors are unlocked, the locks will automatically reengage (re-lock) and the alarm will rearm after 2 minutes unless a door or the trunk has been opened. ...
Unique functions—PCC
1 Information button 2 Indicator lights Pressing the information button provides certain information about the vehicle with the help of the indicator lights. ...
Listening to music
Music from disc tracks/audio files can be played through the media player's USB/AUX sockets or from streaming audio files coming from a Bluetooth®-connected cell phone. For more information abo ...