Locking the vehicle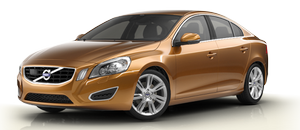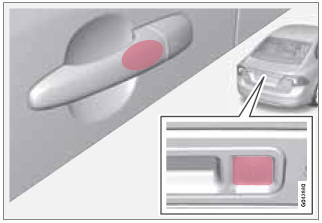 Models with keyless drive have a pressure-sensitive area on the outside door handles and a rubber- covered button next to the trunk opening control
The doors and the trunk can be locked by pressing the pressure-sensitive area on each of the outside door handles or the rubber-covered button next to the trunk opening control. The lock indicator on the dash will begin to flash.

NOTE
On keyless drive vehicles, the gear selector must be in the Park (P) position, all doors and the trunk must be closed and the ignition must be switched off before the vehicle can be locked.
Keyless drive remote key and driver's seat/door mirror memory
When you leave the vehicle with a PCC in your possession and lock any door, the position of the driver's seat and door mirrors will be stored in the seat's memory.
The next time a door is opened by a person with the same PCC in his/her possession, the driver's seat and door mirrors will automatically move to the position that they were in when the door was most recently locked.

NOTE
If several people carrying PCCs approach the vehicle at the same time, the driver's seat and door mirrors will assume the positions they were in for the person who opens the driver's door.
See also page 89 for information on adjusting and storing the seat's position in the seat memory.
See also:
Taking out the spare wheel
1. Open the floor hatch. 2. Undo the retaining bolt. 3. Lift out the foam block. 4. Lift out the spare wheel. The other two blocks can remain in the spare wheel well. After use The foam block ...
Keyless drive
Vehicles equipped with the optional Personal Car Communicator have the keyless drive function, see page 63 for detailed information. ...
Function
Function overview 1 Visual warning signal, collision risk 2 Radar sensor 3 Camera ...