Location of the keyless drive antennas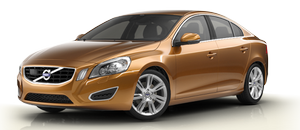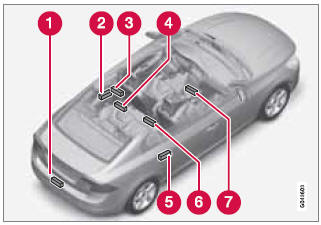 The keyless drive system has a number of antennas located at various points in the vehicle.
1 - On the inside center of the rear bumper
2 - Left rear door handle
3 - Center of the parcel shelf, on the underside
4 - Ceiling, above the center of the rear seat
5 - Right rear door handle
6 - Under the rear section of the center console
7 - Under the front section of the center console.

WARNING
People with implanted pacemakers should not allow the pacemaker to come closer than 9 inches (22 cm) to any of the keyless drive system's antennas. This is to help prevent interference between the pacemaker and the keyless drive system.
See also:
Switching to another device
It is possible to switch among paired Bluetooth devices that are in the vehicle. To do so: 1. Press MEDIA several times until Bluetooth is displayed, release the button and wait for several secon ...
Infotainment system overview
Infotainment system overview 1 Sockets for external audio sources (AUX and USB) 2 Steering wheel keypad 3 7" display 4 Center console control panel ...
Unlocking a channel
A channel's access code is required to unlock a channel. Unlock all channels This permanently removes all channels from the locked list and makes them available for selection. Temporarily unl ...