Replacing batteries in the remote key/ PCC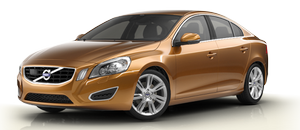 The battery/batteries in the remote key/PCC should be replaced if:
The information symbol lights up and a text appears in the information display. and/or
the vehicle's locks repeatedly do not react when a button on the remote key/PCC is pressed within approximately 60 ft (20 m) from the vehicle.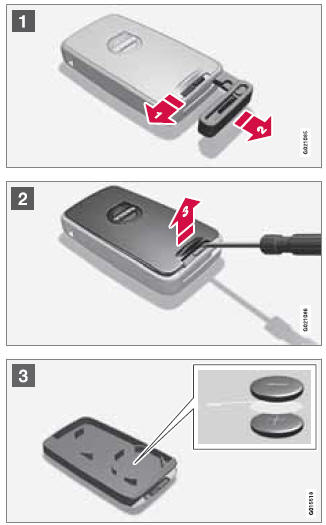 Battery type CR 2430, 3 V (one battery in the remote key, two batteries in the PCC)
Opening the remote key/PCC
1.

Slide the spring loaded catch to the side.

Pull the key blade straight out of the remote key.
2.

Insert a small screwdriver in the hole behind the spring loaded catch and carefully pry up the cover.

NOTE
Turn the remote key with the buttons upward so that the batteries do not fall out when the cover is removed.
Replacing the batteries
CAUTION
When handling batteries, avoid touching their contact surfaces as this could result in poor battery function in the remote key.
3. Note the position of the battery's (+) or (–) sides.
Remote key (one battery)
1. Use a screwdriver to pry out the old battery.
2. Insert a new one with the (+) side downward.
PCC (two batteries)
1. Use a screwdriver to pry out the old batteries.
2. Insert the first new battery with the (+) side upward.
3. Insert the plastic spacer over the battery. Insert the second new battery on top of the plastic spacer, with the + side downward.
Re-assembling the remote key
1. Press the remote key's cover into place.
2. Hold the remote key with the slot for the key blade up.
3. Carefully slide the key blade into its groove.
4. Gently press the key blade in the groove until it clicks into place.
Old batteries should be properly recycled.
See also:
Bluetooth® hands-free
This feature makes it possible to set up a wireless connection between a Bluetooth®-enabled cell phone and the vehicle's infotainment system. This enables the infotainment system to function a ...
Trip computer
A READ (press to acknowledge/confirm/erase a message) B Thumb wheel (used to scroll among the trip computer menus) C RESET The trip computer stores information gathered from several systems in ...
Storing the position
The mirror positions are stored in the key memory when the vehicle has been locked with the remote key. When the vehicle is unlocked with the same remote control the mirrors and the driver's s ...