Using the information button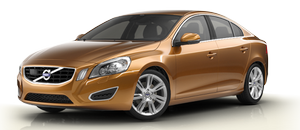 1. Press the information button

2. All of the indicator lights will flash sequentially for approximately 7 seconds to indicate that the PCC is receiving information from the vehicle. If any of the buttons are pressed during this 7-second period, transmission of information to the PCC will be interrupted.

NOTE
If none of the indicator lights flash when the information button has been pressed several times from different places in relation to the vehicle, contact an authorized Volvo service technician.
The indicator lights provide information according to the illustration: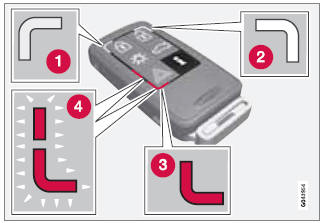 1 - Steady green light: the vehicle is correctly locked.
2 - Steady yellow light: the vehicle is not locked.
3 - Steady red light: the alarm has been triggered.
4 - Both red lights flash alternatively: the alarm was triggered less than 5 minutes ago.
See also:
Washer fluid reservoir
Washer fluid reservoir The washer fluid reservoir is located in the engine compartment and holds approx. 6.8 US qts (6.5 liters). When there is less than approximately 1 US qt (1 liter) rem ...
Opening the remote key/PCC
1 1 Slide the spring loaded catch to the side. 2 Pull the key blade straight out of the remote key. 2 3 Insert a small screwdriver in the hole behind the spring loaded catch and carefully pr ...
Volume control
Turn the knob (2) clockwise or counterclockwise to raise or lower the volume. The volume control is electronic and has no end position. Volume can also be raised (+) or lowered (–) using the ste ...