Using the information button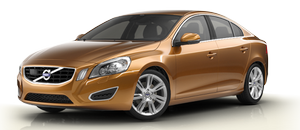 1. Press the information button

2. All of the indicator lights will flash sequentially for approximately 7 seconds to indicate that the PCC is receiving information from the vehicle. If any of the buttons are pressed during this 7-second period, transmission of information to the PCC will be interrupted.

NOTE
If none of the indicator lights flash when the information button has been pressed several times from different places in relation to the vehicle, contact an authorized Volvo service technician.
The indicator lights provide information according to the illustration: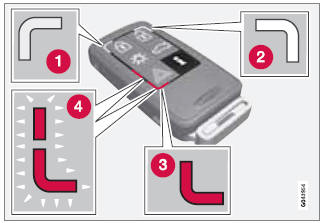 1 - Steady green light: the vehicle is correctly locked.
2 - Steady yellow light: the vehicle is not locked.
3 - Steady red light: the alarm has been triggered.
4 - Both red lights flash alternatively: the alarm was triggered less than 5 minutes ago.
See also:
Navigating and playing tracks
Turn TUNE to access the device's playlist and to navigate in this list. Press OK/MENU to either select a sub-folder or confirm a choice and begin playback. Press EXIT to cancel and exit the pl ...
Keyless drive
Vehicles equipped with the optional Personal Car Communicator have the keyless drive function, see page 63 for detailed information. ...
Scanning audio files on an external device
This function plays the first ten seconds of each audio file. This function can be activated/ deactivated under: Bluetooth menu Scan. ...