Disconnecting the cell phone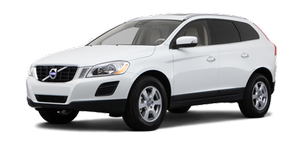 The cell phone is automatically disconnected from the infotainment system if it is moved out of range.
The cell phone can be manually disconnected from the hands-free system by pressing and holding TEL or in phone mode, going to Phone menu

Disconnect phone. See also page 236 for more information about connections.
The hands-free system is also deactivated when the ignition is switched off (or if the driver's door is opened on vehicles equipped with the optional keyless drive).
When the cell phone is disconnected from the hands-free system, a call in progress can be continued using the cell phone's own speaker and microphone.
Even if the cell phone has been disconnected manually, some phones may reconnect automatically to the most recently used hands-free unit, for example when a new call is initiated.
See also:
Children should be seated safely
Volvo recommends the proper use of restraint systems for all occupants including children. Remember that, regardless of age and size, a child should always be properly restrained in a vehicle. Yo ...
Audio/video playback through the A/VAUX socket
1. Switch on one of the rear screens by pressing its On/Off button. 2. Use the remote control's button to select a screen (L: left rear screen, F: front screen, or R: right rear screen). Poi ...
Maintenance
Use a screw driver to open the caps or cover and a flashlight to inspect the level. If necessary, add distilled water. The level should never be above the indicator. The fluid level should b ...