2008 Volvo C30 Review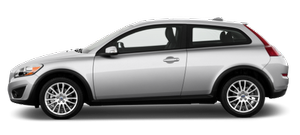 The once utilitarian hatchback has become the new cool car (again), with automakers flooding the market with small, uniquely styled models. Volvo's new four-seat C30 joins the Mini Cooper — the car that really rejuvenated this segment — and the Volkswagen GTI in the premium-hatch subcategory.
Like the Mini Cooper, the C30 is defined by its styling. The Volvo's interesting shape sets it apart from its competitors, and it also has a healthy dose of athleticism thanks to its turbo five-cylinder engine and sport-tuned chassis. I know what you're thinking, but I'm not pulling your leg: The C30 really is a Volvo, and it's one that has the goods to create a loyal group of followers like the Cooper and GTI enjoy.
See also:
Touching up paintwork
Paint code on the model plate Paint damage requires immediate attention to avoid rusting. Make it a habit to check the finish regularly, for instance washing the vehicle. Touch-up if necessary ...
Ignition mode II
- With the remote key fully pressed into the ignition slot, press START/STOP ENGINE for approximately 2 seconds. ...
Seat belt reminder
Seat belt reminder light in ceiling console The seat belt reminder consists of an audible signal, an indicator light near the rearview mirror and a symbol in the instrument panel that alert a ...