2008 Volvo C30 Review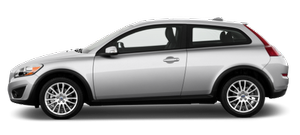 The once utilitarian hatchback has become the new cool car (again), with automakers flooding the market with small, uniquely styled models. Volvo's new four-seat C30 joins the Mini Cooper — the car that really rejuvenated this segment — and the Volkswagen GTI in the premium-hatch subcategory.
Like the Mini Cooper, the C30 is defined by its styling. The Volvo's interesting shape sets it apart from its competitors, and it also has a healthy dose of athleticism thanks to its turbo five-cylinder engine and sport-tuned chassis. I know what you're thinking, but I'm not pulling your leg: The C30 really is a Volvo, and it's one that has the goods to create a loyal group of followers like the Cooper and GTI enjoy.
See also:
Switching HD on or off
The factory setting for HD radio is off. However, when driving through areas with weak HD signals (fringe areas), you may experience that the radio repeatedly switches between analogue/ digita ...
2005 Volvo XC90 Review
Volvo's best-selling vehicle, the XC90, which arguably is the best crossover sport utility on the market, now comes with optional V-8 power. In the case of the XC90, this might be a matter of poor ...
More information about pairing and connecting cell phones
A maximum of 10 cell phones can be paired with the hands-free system. Pairing only needs to be done once for each phone. After pairing, the cell phone no longer needs to be in sight or discove ...