2008 Volvo C30 Review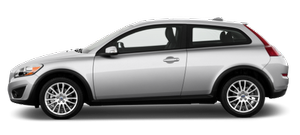 The once utilitarian hatchback has become the new cool car (again), with automakers flooding the market with small, uniquely styled models. Volvo's new four-seat C30 joins the Mini Cooper — the car that really rejuvenated this segment — and the Volkswagen GTI in the premium-hatch subcategory.
Like the Mini Cooper, the C30 is defined by its styling. The Volvo's interesting shape sets it apart from its competitors, and it also has a healthy dose of athleticism thanks to its turbo five-cylinder engine and sport-tuned chassis. I know what you're thinking, but I'm not pulling your leg: The C30 really is a Volvo, and it's one that has the goods to create a loyal group of followers like the Cooper and GTI enjoy.
See also:
Replacing batteries in the headphones
The headphones use two AAA batteries. It is advisable to have extra batteries on hand during long trips. Battery cover and retaining screw 1. Unscrew the retaining screw and remove the batter ...
Drive (D)
D is the normal driving position. The car automatically shifts between the various forward gears, based on the level of acceleration and speed. The car must be at a standstill when shifting from p ...
Introduction
Display when the radio is receiving an HD Radio broadcast NOTE HD radio volume may fade in and out at times due to coverage limitations. HD radio is a brand name registered by the Ibiquity di ...