2008 Volvo C30 Review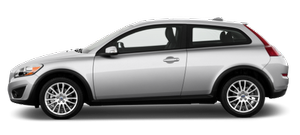 The once utilitarian hatchback has become the new cool car (again), with automakers flooding the market with small, uniquely styled models. Volvo's new four-seat C30 joins the Mini Cooper — the car that really rejuvenated this segment — and the Volkswagen GTI in the premium-hatch subcategory.
Like the Mini Cooper, the C30 is defined by its styling. The Volvo's interesting shape sets it apart from its competitors, and it also has a healthy dose of athleticism thanks to its turbo five-cylinder engine and sport-tuned chassis. I know what you're thinking, but I'm not pulling your leg: The C30 really is a Volvo, and it's one that has the goods to create a loyal group of followers like the Cooper and GTI enjoy.
See also:
Speed rati
The speed ratings in the table translate as follow: Speed ratings M 81 mph (130 km/h) Q 100 mph (160 km/h) T 118 mph (190 km/h) H 130 mph (210 km/h) ...
Limitations
In certain situations, the BLIS indicator light(s) may illuminate even when there are no other vehicles in the area monitored by the system. NOTE If the BLIS indicator lights illuminate occasion ...
Vehicle Overview
New brushed-aluminum roof rails and an eggcrate grille go on 2005 XC70s. A trip computer and rear armrest are also now standard. The headlights and taillamps have been restyled, new front and rear ...