Styling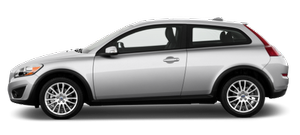 I've been a fan of the Volvo S40's face since it was last redesigned, and I'm glad to see the look spreading across the Volvo brand to models like the S80 and now the C30, which is related to both the S40 sedan and V50 wagon. C30-specific cues include black eyebrows on the upper portion of the headlights and more aggressive trim pieces on the lower portion of the front bumper. It's an assertive look, but as you move around to the back of the car, the hatchback starts to look a little funky.
The C30's downward sloping roofline leads into one of the most unique liftgates available. It's an all-glass affair that has a sculptural quality; it looks like it belongs on the wall of an art gallery, not on the back of a Volvo. According to C30 producer manager Art Battaglia, the hatch design was inspired by the Volvo 1800 ES, which was sold in the U.S. in limited numbers in the early '70s. The glass hatch is bordered by elongated taillights similar to the ones on Volvo's SUVs and wagons, and the D-pillars are dramatically raked forward.
The result is one of the most stylish hatchbacks on the road. The style isn't without its downsides, but I'll address those later in the Cargo & Towing section.
See also:
Headphone socket
External headphones can be connected to the 3.5 mm headphone socket on the side of the head restraint (see the illustration on page 245 for the location of this socket). Adjust the volume with ...
Audio system overview
1 CD player 2 VOLUME Ц turn to adjust 3 POWER Ц On/Off 4 AM/FM Ц for switching between FM1, FM2 and AM 5 Display 6 ENTER Ц select in the menu or activate a selection 7 Not in use 8 MY KEY Ц p ...
Vanity mirror
Vanity mirror with lighting The light comes on automatically when the cover is lifted. ...