Styling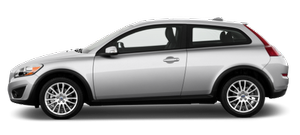 I've been a fan of the Volvo S40's face since it was last redesigned, and I'm glad to see the look spreading across the Volvo brand to models like the S80 and now the C30, which is related to both the S40 sedan and V50 wagon. C30-specific cues include black eyebrows on the upper portion of the headlights and more aggressive trim pieces on the lower portion of the front bumper. It's an assertive look, but as you move around to the back of the car, the hatchback starts to look a little funky.
The C30's downward sloping roofline leads into one of the most unique liftgates available. It's an all-glass affair that has a sculptural quality; it looks like it belongs on the wall of an art gallery, not on the back of a Volvo. According to C30 producer manager Art Battaglia, the hatch design was inspired by the Volvo 1800 ES, which was sold in the U.S. in limited numbers in the early '70s. The glass hatch is bordered by elongated taillights similar to the ones on Volvo's SUVs and wagons, and the D-pillars are dramatically raked forward.
The result is one of the most stylish hatchbacks on the road. The style isn't without its downsides, but I'll address those later in the Cargo & Towing section.
See also:
Main CD Audio menu
Disc menu Random Scan Audio settings ...
Function
Function overview 1 Warning light, braking by driver required 2 Controls in steering wheel 3 Radar sensor in front grille Adaptive Cruise Control consists of: • A cruise control system to maint ...
Brake lights
The brake lights come on automatically when the brakes are applied. Adaptive brake lights The adaptive brake lights activate in the event of sudden braking or if the ABS system is activated. This ...