Ride & Handling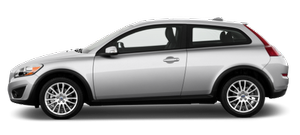 The base suspension setup makes for a bumpy trip on rough pavement, but it's no worse than a GTI in terms of ride quality. On the plus side, the suspension makes the C30 a car that could easily entertain you on your favorite two-lane road.
The C30 has decent steering response, but the system has a somewhat disconnected feel that's unlike the suspension and doesn't jive with the rest of the car's high-strung personality; it doesn't compare to a Cooper S' dialed-in steering.
The C30's four-wheel-independent suspension uses MacPherson struts in front and a multilink arrangement in the rear. Front and rear stabilizer bars are standard. On base Version 1.0 models, the suspension meets the road on standard 17-inch alloy wheels. A variety of wheel styles are offered, and 18-inchers are included on Version 2.0 trim levels. Version 2.0 models also feature the Dynamic Chassis suspension, which features stiffer tuning. The Dynamic Chassis is available on Version 1.0 cars through the Custom Build option program.
See also:
Removing the cover
1. Press one of the end pieces of the cover inward. 2. Pull the cover carefully upward and outward. The other end will release automatically from its retaining bracket. ...
Ice and snow
Always keep the air intake grille at the base of the windshield free of snow. ...
Cargo compartment light
1. Carefully insert a screwdriver and pry out the lens. 2. Pry out the bulb and replace it. 3. Press the lens back into place. ...