Ride & Handling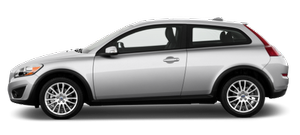 The base suspension setup makes for a bumpy trip on rough pavement, but it's no worse than a GTI in terms of ride quality. On the plus side, the suspension makes the C30 a car that could easily entertain you on your favorite two-lane road.
The C30 has decent steering response, but the system has a somewhat disconnected feel that's unlike the suspension and doesn't jive with the rest of the car's high-strung personality; it doesn't compare to a Cooper S' dialed-in steering.
The C30's four-wheel-independent suspension uses MacPherson struts in front and a multilink arrangement in the rear. Front and rear stabilizer bars are standard. On base Version 1.0 models, the suspension meets the road on standard 17-inch alloy wheels. A variety of wheel styles are offered, and 18-inchers are included on Version 2.0 trim levels. Version 2.0 models also feature the Dynamic Chassis suspension, which features stiffer tuning. The Dynamic Chassis is available on Version 1.0 cars through the Custom Build option program.
See also:
Lower cross member
The front structure has been supplemented by a lower cross member that adapts the front to the height of a normal-sized passenger car. This enables the other car's deformation zones to function as ...
Handling, roadholding
Vehicle load, tire design and inflation pressure all affect vehicle handling. Therefore, check that the tires are inflated to the recommended pressure according to the vehicle load. See the " ...
Remote key not functioning
If the remote key is not functioning properly, the alarm can be turned off and the vehicle can be started as follows: 1. Open the driver's door with the key blade (see page 61 for information o ...